Crossflow filtration
Crossflow filters with semipermeable membranes selected for a total cleaning and a sterile filtration of liquids (removal of fine particles, yeasts, bacteria).
B1

B2

B3

B4

B6

B8

B12

B16

F2T4

F2T8

F3T8
Pre-filtration
Sieve filtration systems for a partial cleaning on heavily loaded liquids in suspended solids (removal of coarse particles).
Microfiltration
Polymer microfiltration system or cartridges microfiltration system, single or multiple; Test devices for routine controls.
M1

M2

M3

MF with cartridges

Filterability index

Integrity test
Reverse osmosis-nanofiltration
Reverse osmosis and nanofiltration systems with composite-film membranes for molecular separation.
B4.V2

B8.V2

B16.V2

B24.V2
Gas Adjustment - Alcohol removal
Equipment for gas adjustment on liquids and alcohol removal systems by a molecular diffusion.
Ion exchange
Polymeric systems for the ion exchange between liquid and resin.
KS30

KS60

KA30

KA60

KA90

KA120
Heat exchange
Systems for the liquids' temperature control and for heat sterilization processes.
Tube in tube

Pasteurization plants
Proportional inline dosing unit
Device for the right dosage of additives proportionally to the flow.
Multifunctional filler
Multifunctional filler with multi-stage filtration system.
CIP system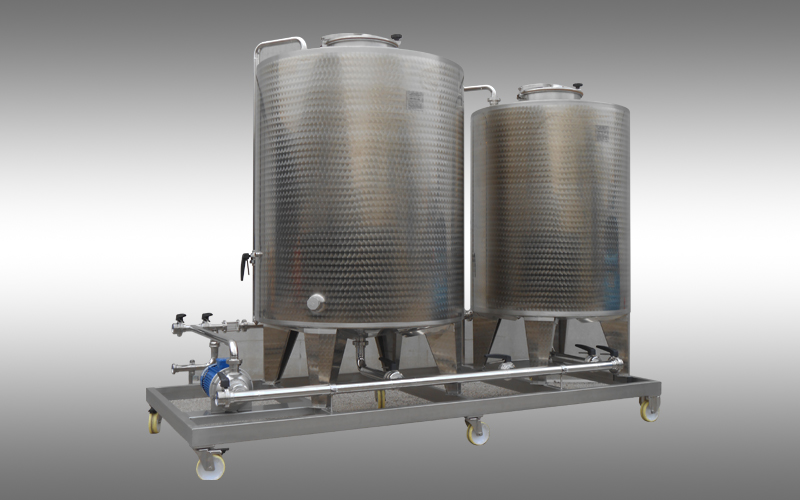 Clean-In-Place system for chemical cleaning and sanitizing of fixed production lines, tanks and machinery in general. The systems are made according to specific customer's requirements and can be on fixed or wheeled skid, manually operated or fully automatic with a remotable touch-screen PLC.
Turnkey projects
Bared's know-how and skilled experience on the field allow consultancies and technological solutions on different applications at every stage of the production process. We are able to offer projects and turnkey projects for production units in beverage.